Lord Hanningfield: Essex council to judge credit card court case risk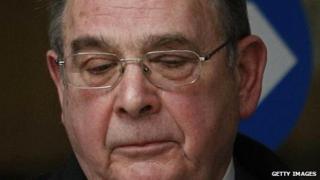 Legal action over a council leader's £50,000 credit card spend should not be pursued, an audit panel says.
Lord Hanningfield, jailed for nine months for parliamentary expenses fraud in 2011, spent £286,000 on his Essex County Council credit card as leader.
The council claims £50,000 of that spending was potentially inappropriate - something the peer has denied.
The Conservative council's audit committee has now recommended no further action be taken.
Legal advisors told the committee costs of taking the case to court would be "significant" and success was "uncertain".
Conservative council leader David Finch will make a final decision on whether to take any action in the next few days.
Lord Hanningfield became leader of the council in 2000 and was issued with a credit card.
The council claims some of the spending on the card was not authenticated by receipts and there were other discrepancies, as several people had access to it.
Huge regret
Susan Barker, chairman of the audit committee, has received the report from the director of corporate law and assurance at the council.
It said counsel had advised "costs of pursuing this case would be significant, with uncertain chances of success".
"The council would also have to invest further considerable officer time trying to prepare for and pursue the case, with unlikely prospects of success," Ms Barker said.
"It is with huge regret that, having taken account of the legal advice and the advice of our external auditors, we feel we have no alternative but to recommend that no further action be taken," she said.
Lord Hanningfield, who claimed his £300-a-day House of Lords attendance allowance on 11 days despite being there for less than 40 minutes on each occasion, is expected to comment once the final decision is made by Mr Finch.