Six women emerge from toilet in train passenger attack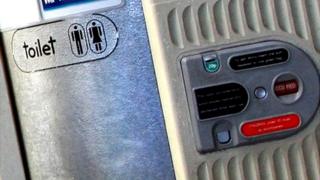 A man who tried to force a train toilet door was left with a broken nose and two black eyes after six women emerged from the cubicle to confront him.
The 54-year-old man was on the Southend Central service at Benfleet in Essex when he was assaulted.
When the door opened six women in mini skirts emerged shouting. One punched and kicked him on to the platform.
He fell on to a second woman on the platform, who responded by punching him, police say.
Why the six women were in the same toilet cubicle is currently unclear, police say.
'Protested innocence'
Sgt Emma Weir said: "As the train stopped at Benfleet, one of the women punched the man in the back of the head and kicked him off the train.
"The man fell into a woman on the platform, who accused him of trying to steal her bag.
"He protested his innocence, but the woman refused to listen and attacked him, punching him in the face before leaving the station."
The man suffered a hairline nose fracture, two black eyes and several bruises and scratches.
The women on the train were in their early 20s, police said.
The woman on the platform is described as having a heavy build and black hair in a bob. She wore a blue T-shirt and carried a grey satchel bag.
The assault happened at about 22:45 BST on Friday.