Nahid Almanea probe: Murder weapon still not found as trail reopens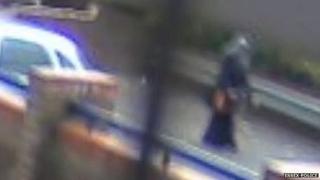 More than 2,000 items of evidence have been collected by police investigating the murder of a Saudi Arabian student.
Nahid Almanea, 31, was found with 16 stab wounds on a path near Avon Way in Colchester, Essex, on 17 June.
The Salary Brook Trail on which Ms Almanea, a student at Essex University, was killed, was reopened by police earlier.
Essex Police said officers had so far searched 48 private gardens and dredged 468 drains in the hunt for evidence.
The murder weapon has not yet been found.
Det Ch Supt Steve Worron said: "I'm grateful to the people of Colchester for their patience and understanding whilst these searches took place.
"Securing evidence is a vital part of the investigative process."
Police continue to appeal for the public's help in tracing witnesses.
In particular, they want to speak to a man seen on the trail between 10:20 and 10:40 BST on the day of the murder.
He is thought to have been wearing a very distinctive jacket.