M11 Epping crash: 72-year-old man was driver in fatal accident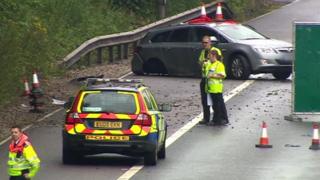 Police are appealing for witnesses after a 79-year-old woman from Halifax was killed in a crash on the M11 in Essex.
Police said the driver of a car involved, a 72-year-old man, and an 81-year-old female passenger were injured.
The woman who died was also a passenger in the Vauxhall Astra, which collided with a lorry near Epping on Thursday.
Investigators said the car had a "slight collision" with the truck, left the road and hit trees.
The injured man and woman were from Retford in Nottinghamshire and were in the front seats of the car, police said.
The woman who died was in the rear.
The southbound carriageway was closed for several hours while the accident was cleared.
Essex police said their investigation was continuing and they would like witnesses to contact them.