Essex couple matched by Wickford undertaker marry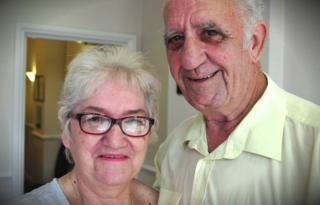 An undertaker has told how she paired up two grieving pensioners after organising their spouses' funerals.
Newlyweds Tom and Isabell Lennon were introduced in January by Lynn Love, who runs Co-operative Funeralcare in Wickford, Essex.
Mrs Lennon's husband Bob died in 2011 and Mr Lennon's wife Alice died in 2013.
Mrs Love said while she felt they would enjoy one another's company she had not imagined they would end up married.
"Each of them used to pop in occasionally for a cup of tea with me I realised they were both quite lonely and were looking for some companionship," said Mrs Love.
"I did tell Isabell that Tom was no oil painting but that he was a genuine and kind gentleman and the rest, as they say, is history."
Mr Lennon, 76, said since meeting Isabell he has flown in an aeroplane for the first time to Spain.
"My new wife, and I have to say this, has taken me to places I have never been before. She is a holiday fanatic.
"As soon as I saw this lady, something just clicked. She is 100% diamond."
Mrs Lennon, 70, said: "I've never been classed as a diamond, but I'm quite happy with him."
The pair were married in Wickford in June and their limousine was driven by one of the funeral home's drivers.
Mrs Love helped organise the wedding and was one of the official witnesses.