Colchester Hospital University NHS Foundation Trust 'needs improvement'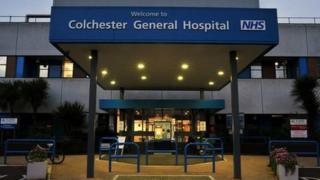 A hospital under fire over cancer treatment waiting times failed to disclose further claims of waiting list manipulation, the health watchdog says.
Care Quality Commission (CQC) inspectors who visited Colchester Hospital were told of the new claims by a whistleblower.
Its report also found the quality of services at both the NHS trust's two hospitals needed to improve.
The trust said it had made "significant progress" but there was more to do.
Colchester Hospital University NHS Foundation Trust has been in special measures since last October.
CQC inspectors visited Essex County Hospital and Colchester General Hospital in May.
'Inadequate leadership'
They called for an independent review of waiting list management after the trust "failed to notify" them of allegations involving the endoscopy and dermatology departments.
The trust's chief executive resigned in December over allegations that cancer waiting time data had been manipulated. A police investigation is ongoing.
The endoscopy department claims are unfounded, according to a group made up of doctors, NHS England and the watchdog Monitor, but an investigation into the dermatology allegations is continuing.
As well as rating trust services as "requiring improvement", inspectors also found its leadership to be "inadequate".
Four chief executives in nine months had led to "lack of clear direction" and the report called for the need to recruit a board of directors to "bring about stability".
Chief inspector of hospitals, Professor Sir Mike Richards, said: "Inspectors found some examples of good care, and the trust was found to be effective and staff were caring.
"But changes are clearly required and the trust faces a number of challenges to ensure it meets the required standards."
The trust's interim chief executive Dr Lucy Moore called the last year "difficult and challenging" but said it had made "significant progress".
"We are not yet in a position where we can truthfully say that all the difficulties are behind us," she said.
"We face more challenges in the months ahead but we are moving forward."