Hundreds more traveller pitches needed in Essex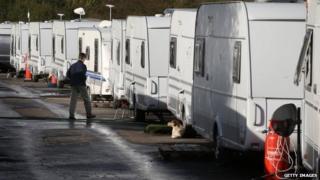 Planners say more than 700 new pitches for travellers will be needed in Essex in the next 20 years.
There are currently 818 sites and about 2,630 travellers in Essex.
But a report on the future needs of the travelling community says that number is likely to grow by 2% each year.
That report, produced by 15 councils working via the Essex Planning Officers Association, says by 2033, 786 pitches would be needed for travellers and 183 for travelling show people.
John Jowers, Essex County Council's cabinet member for communities, said that by kplanning carefully for the county's gypsy and traveller community, they hoped to "avoid some of the problems with illegal encampments that so frustrate residents".
The report comes amid a clash between Harlow MP Robert Halfon and the Essex Police and Crime Commissioner Nick Alston over illegal encampments in Harlow.
Mr Alston has called for the provision of more pitches while Mr Halfon says police should enforce a "zero tolerance" approach to illegal sites.