Canvey Island flood pump out of action for two hours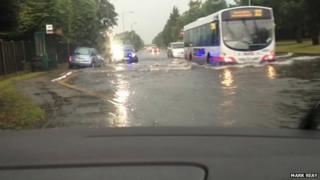 A flood pump in Canvey Island broke down for two hours - despite previous claims the system was only out of action for a matter of minutes.
More than 200 homes were flooded on Canvey Island in Essex after 2.3in (6cm) of rain fell on Sunday.
On Monday, the Environment Agency claimed the system was down for 12 minutes.
But it has now confirmed the Croppenburg pumping station was broken for two hours.
Dr Charles Beardall, of the Environment Agency, said: "We need to make sure that our whole system is improved and that is what we are working with our partners at the moment."
But he said the Croppenburg station's breakdown would "not have had a big impact" overall. It is one of 13 pumps on the island.
Mark Walport, the government's chief scientific advisor, is to lead an inquiry into flooding issues on Canvey.
Castle Point MP Rebecca Harris, who called for the investigation, said: "We need someone who is separate and not involved to come in and say 'this is what needs to happen'.
"I hope that means we can start taking the precautions to stop this happening again."