Nahid Almanea: Family urges killer to 'hand themselves in'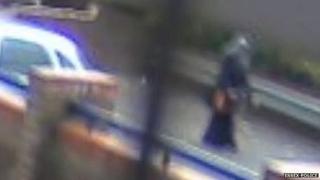 The family of a Saudi Arabian student murdered in Essex, has urged her killer to hand themselves in.
Nahid Almanea, 31, was found fatally stabbed on the Salary Brook Trail in Colchester on 17 June. She had been knifed 16 times.
Miss Almanea had been studying English at the University of Essex.
In a statement, her family described her as a "warm and loving person" and told how they had been "devastated" by her "terrible murder".
It is the first time her family in Saudi Arabia has spoken about the loss.
The statement said: "Nahid was a remarkable and gentle person who was loved for her kind and caring nature.
"Publicly Nahid was a quiet and dignified lady who chose to pursue her academic studies, in order to work towards her PhD and while in England she made a decision that she would respect her heritage and traditions in the way that she dressed and conducted herself.
"However, when she was with her family, Nahid was a warm and loving person who enjoyed laughter and the company of her parents, siblings and extended family."
The family said it had been upset by media speculation about Ms Almanea's death and the publication of a photograph, which wrongly claimed to be of her.
"We wish to appeal directly to the person responsible for Nahid's death, to come forward and hand themselves in to the police, in order to relieve our suffering and let justice take its course."
An appeal earlier this week on the BBC's Crimewatch programme has yielded several calls, which police say could help with the investigation.
Ms Almanea was studying English at the Wivenhoe-based university with a view to starting a life sciences PhD.
She usually went to the university with her brother but on the day of her death, he had to leave earlier than usual.
She had been living in the UK for less than a year.
Police are appealing for a number of people in the area at the time of her death to come forward.