Thousands in Southend bid to top ice cream eating record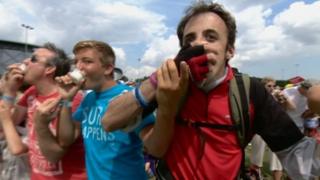 The organisers of a bid to get the largest gathering of people eating ice cream are applying to the Guinness Book of Records to acknowledge their feat.
Rossi Ice Cream got together thousands of people at Garons Park in Southend, Essex, for the attempt on Saturday.
The current record is held by a Northern Irish ice cream firm and stands at 2,728.
Rossi director Colin Gray said they were keeping their exact numbers under wraps until the attempt was verified.
He said: "I'm sure with the help of the people of the Southend area we can beat this Guinness World Record."
The record attempt was made during the Relay for Life event aimed at raising funds for Cancer Research UK.