Essex Police says new powers are protecting abuse victims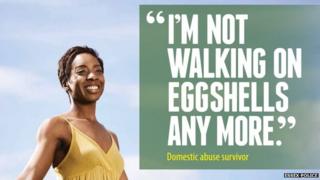 A police force criticised over its handling of domestic abuse cases says it has used new protection powers more than 50 times in two months.
Essex Police started issuing domestic violence protection notices and orders, which are also used by several other police forces, in June.
The measures are designed to make sure victims are safe when there is not enough evidence to charge suspects.
One man has been jailed for breaching the terms of his order.
Three other people have been fined.
The new protection notices can prevent suspected abusers from entering the house of their victim or making contact with them.
In 2013, Essex Police was criticised for its "fragmented" approach to dealing with domestic violence in a report by HM Inspector of Constabulary.
Det Insp Nick Burston, the force's head of public protection, said the new legislation could "bridge the gap in providing immediate emergency protection to a victim where there is a risk of violence".
"If someone breaches a notice they can be subject to immediate arrest and can then be remanded in custody to appear before a court for a full order to be considered," he said.
"A breach of an order can lead to a maximum fine of £5,000 or a two month prison sentence."