Colchester airgun incident: Man arrested after police stand-off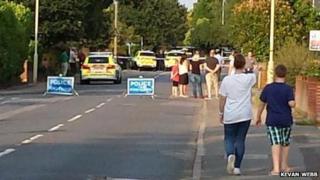 A man has been arrested after police believe they were shot at with an airgun during a stand-off.
Officers and mental health professionals went to an address in Dugard Avenue, Colchester, following concerns about a man's welfare.
An airgun was believed to have been fired at police and the area was sealed off.
Officers responded with baton rounds and Taser stun guns, and a 43-year-old man was arrested at about 18:30 BST.
Essex Police said they initially called at the house and had to withdraw after officers thought they saw a weapon. Firearms officers were then called to the scene.
Ch Supt Luke Collison said: "A suspected air weapon has been recovered and it is believed to have been discharged several times at police officers and police vehicles.
"Attempts were made to negotiate before firearms officers used Tasers and baton rounds to respond and bring the incident to a safe conclusion."