Four guilty of £1.1m Basildon Hospital fraud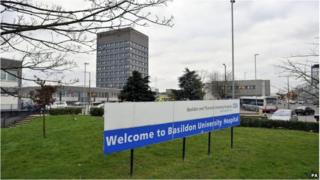 Four people have been convicted of plotting to defraud an Essex hospital of £1.1m.
Basildon Hospital paid a London-based company between 2007 and 2011 but salaries paid amounting to 14,000 hours were not actually worked.
Four managers of the firm, Martin Oliver, 37, Ann Clements, 51, John Mulholland, 41, and Tom Cumberland, 42, were convicted at Basildon Crown Court.
They are due to be sentenced in September.
The firm concerned, London Perfusion Science Limited, had provided services to manage heart and lung machines during cardiac surgery.
Fraud 'pure and simple'
The firm was hired to work at the hospital when Basildon's new cardio-thoracic centre opened in 2007.
An investigation by NHS Protect found between 2007 and 2011 Basildon Hospital paid salaries for around 14,000 hours not actually completed, which equated to a salary overpayment of around £420,000.
These hours were then used to conduct private work at other hospitals, earning an additional £700,000 for the company, the court was told during the three-month trial.
Andrew Penhale, deputy head of fraud at the Crown Prosecution Service, said: "Unlike other private health work, which is legitimately undertaken by senior health professionals with the full knowledge of the NHS, this was fraud, pure and simple.
"John Mulholland and his co-defendants took advantage of their specialist role to systematically defraud Basildon NHS Trust, for their own dishonest enrichment.
"Their e-mails revealed that they did so with cynical disregard for the loss to the National Health Service and the public purse."
A hospital spokesman said it had a "zero tolerance approach to fraud" adding "strict controls" had been introduced to prevent such fraud happening again.