Canvey Island flood-hit homeowners could get council tax rebate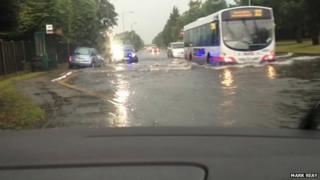 People whose homes were flooded during heavy rainfall in Essex could be entitled to up to six months' council tax relief.
Hundreds of houses on Canvey Island were affected when a pump system was hit by lightning and stopped working last month.
Castle Point Borough Council said it was expecting to spend about £175,000 on the tax rebate scheme.
It is seeking government funding to cover the cost of the discount.
The local authority said it wanted to help people who had been hit financially by the flood.
Householders who were affected will be contacted about the scheme, and eligibility will be assessed on a case-by-case basis.
A final decision about the rebate will be made at a cabinet meeting on 20 August.
An inspection and report into the causes of July's flooding are expected in the coming weeks.
Conservative council leader Colin Riley said the authority was working with other stakeholders, including Anglian Water and the Environment Agency, to try to prevent future flooding.
"I want to be able to protect people who experienced terrible flooding, and who live with the threat of it happening again," he said.
Mr Riley suggested the current pumping system was "inefficient" and "too small".
Replaced in 2005-06 at a cost of about £7m, it works by lifting flood water up over a flood wall and depositing it into the Thames Estuary.