Colchester cyclist hit by fallen tree was "inches" from death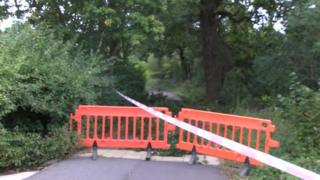 A cyclist was "an inch or two either way" from being killed after a "half-tonne" branch fell on him on his way home from work.
Fire crews rescued the man on a footpath off Cowdray Avenue in Colchester at about 20:00 BST on Monday.
Firefighter Gavin Ellis said: "Fortunately the bike took the impact".
The cyclist suffered "significant injuries" but is in a stable condition in hospital.
The branch which hit him - described as "the width of an average man" - fell about 15 to 20ft (4.6 to 6m) from a "huge tree".
Mr Ellis said there was "no significant weather that would explain why the branch fell at that moment."
"It looks like it may have been rotten so police have cordoned off the area and we have asked Colchester Council to take over to ensure there is no further danger to people using the footpath," he added.
An East of England Ambulance spokesman said: "An ambulance and an ambulance officer attended the incident and assessed the man, who we believe is in his forties.
"He suffered back, chest, arm, and head injuries and was taken to Colchester General Hospital for emergency treatment."