Mersea islanders rescued by boat during unusually high tide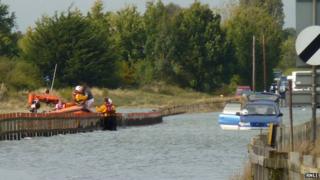 Patients had to be evacuated by boat, after an unusually high tide left them stranded on an island.
The Strood causeway, which links Mersea Island, Essex, with the mainland, is often impassable during high tides.
But the "surge flood tide" on Wednesday, at a height of 5.8m (19ft), meant residents were cut off for far longer than usual.
Lifeboats and coastguard rescue teams were called to help a number of people with medical emergencies.
Essex Police's marine unit and the air ambulance came to the aid of a man who had a heart attack, an elderly woman with a broken arm and an 87-year old man who collapsed.
A "Round the Island Race" was also under way during the high tide, and Mersea's coastguard rescue team was tasked with making sure members of the public stayed safe.