Tilbury Docks: Police questioning container survivors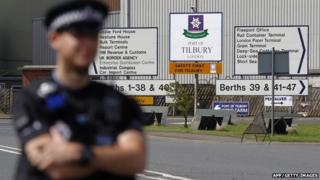 Police are questioning some of the people found inside a shipping container at a port, as they continue to investigate the death of one man.
Thirty-five people were discovered on Saturday morning after a freighter arrived at Tilbury Docks from Belgium.
Essex Police described the men, women and children - all believed to be from the Indian subcontinent - as victims of "people trafficking".
They also launched a homicide investigation after the man's death.
Police are working with Interpol and other international authorities to try to establish what happened.
The Indian Ministry of External Affairs said it had contacted UK authorities but added that the nationality of the survivors had yet to be established.
Lorry 'identified'
The discovery was made after the container arrived from the Belgian village of Zeebrugge at about 06:00 BST on Saturday when "screaming and banging" were heard coming from inside.
One man died and the others were taken to hospital suffering from hypothermia and severe dehydration.
Supt Trevor Roe told a press conference on Saturday: "It is a homicide investigation... we will be looking to see where the origin and the gangs or whoever may [be] involved in this conspiracy to bring these people in this way over to this country.
"Clearly we need to try and bring them to justice."
Police said they were keen to track the container's movements before it was loaded on to the ship.
Belgian police said they believed the lorry which delivered the container in Zeebrugge had been identified through CCTV footage.
Chief Inspector Peter De Waele said: "The Belgian civil police is checking all the images and my colleagues are very, very hopeful that we find the truck who put the container in Zeebrugge.
"I think it is very, very important that we have the identification of that truck and also of the driver."
He added it was likely the people were already inside the container when it was dropped at Zeebrugge as it appeared "impossible" the group could have entered it during the hour it was at the port.
It is not known where the container, one of 64 aboard the P&O commercial vessel Norstream, originated, nor where the people inside it were heading.
Many of the survivors spent the night in hospital but none is thought to have suffered serious injury.
One man has been questioned by officers already and most of the others have been discharged from hospital.
It is expected they will be interviewed through interpreters at an immigration reception centre near Tilbury on Sunday. Police said they were being held under immigration powers.
'Exploited by gangs'
Former head of the UK Border Force Tony Smith said those inside the container were victims of international organised criminals.
He told the BBC: "They're being exploited because the prize is a passage to the West - that's what they want, they want to migrate to the UK or to Europe but they're being exploited by criminal gangs who are probably taking their entire life savings away on the promise of a passage to the West.
"We really need to get a message out to migrants that if they want to come to this country there are legal routes that they need to explore and they need to apply for visas and permits."
Anthony Steen, chairman of the Human Trafficking Foundation, said: "It shows how desperate people are to improve their economic situation - how desperate they are to leave their own homes, and own countries, and hope to arrive in somewhere that's more accommodating, more kind, and offering them a better quality of life. Usually, they're sadly wrong."
Police have set up a "casualty bureau" hotline for anyone concerned about relatives. The numbers are 0800 056 0944 or 0207 158 0010 if dialling from outside the UK.