Westcliff gas main fire leads to evacuation and arrest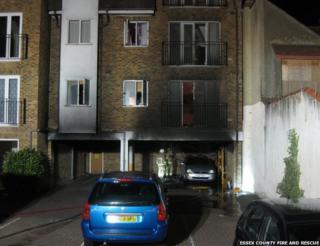 A man has been arrested on suspicion of arson after a gas main supplying a Tesco store and 15 flats was set on fire in a "potentially deadly" attack.
An area around London Road in Westcliff-on-Sea, Essex, was evacuated early on Monday by emergency services.
A 26-year-old man of no fixed address was arrested in Westcliff, and is in police custody.
The fire is being linked to a similar incident a few hours before, in a car port underneath another block of flats.
It involved two vehicles and "damaged gas supply pipes and meters for the block".
Martyn Hodder from Essex County Fire and Rescue Service said: "The fire was being fuelled by escaping gas from the damaged supply pipes and threatened to spread to occupied flats above."
"It could easily have spread to the flats causing a great deal of damage."
The block of 16 flats was evacuated, and the fire was out by about 23:40 BST on Sunday night.
A 70-year-old man, who lives in one of the flats, was treated for shock.
'Serious havoc'
The second fire was "deliberately" set on a gas main in the stairwell of another block of flats.
It involved "a number of traffic cones and a propane cylinder".
Mr Hodder said the blaze "could have had deadly consequences" as the stairs were the only means of escape for the 15 flats.
"The burning traffic cones created a huge amount of thick black smoke and the propane cylinder could have exploded at any moment causing a great deal of damage," he said.
"This seems to have been a very serious attempt to cause havoc and crews did a fantastic job tackling the fire and getting everyone safely out of their flats."
A joint police and fire service investigation is underway to establish the cause of the fires.