Tilbury Docks ship death stowaways claim asylum in UK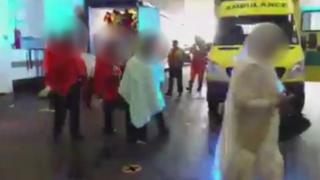 A group of people from Afghanistan rescued from a shipping container in Essex are claiming asylum in the UK, the Home Office has said.
Thirty-five people, including 15 children, were found at Tilbury Docks on Saturday. One man was found dead.
The remaining four migrants who were being treated in hospital for the effects of severe dehydration and hypothermia were released earlier.
A Home Office spokesman said their cases were currently being considered.
Essex Police have named the dead man as Meet Singh Kapoor, who was 40 years old.
Initial post-mortem tests have proved inconclusive, officials said. Police are carrying out a homicide investigation into his death.
'Horrendous ordeal'
The group arrived in the UK on Saturday on a ship from Belgium and were said by police to be victims of "people trafficking".
They were discovered after dock workers heard banging and screaming coming from one of the containers.
The 34 survivors include 10 men, nine women and 15 children, with their ages ranging from one to 72.
They are all in the care of the Home Office after being questioned by police.
A spokesman said: "Following the conclusion of police interviews, the individuals involved have now been passed into our care.
"All 34 are now in the process of claiming asylum in the UK and we are providing accommodation and support to those who require it while their cases are considered.
"The UK takes its international obligations extremely seriously and has a proud history of offering protection to those who need it."
Supt Trevor Roe, of Essex Police, said: "These people were found in an awful situation and our main priority is to look after them and ensure they are now safe following what would have been a horrendous ordeal."
Belgian police said they believed the stowaways were already in the container when it left Zeebrugge for Tilbury on Friday evening.
Kamaljit Singh Mataharu, a translator used by police, was hosting a birthday party in Grays when he received a call to help.
He said the group told him they believed they would have died if they remained trapped in the container for another 30 minutes and they had no idea where they were.
"They were banging on the container walls to attract attention," he said.