Clacton and Harwich maternity units have too few births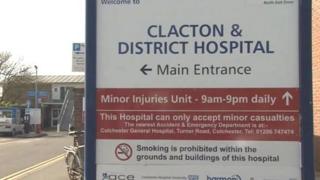 An extra senior midwife to oversee the maternity unit at Colchester Hospital needs to be appointed urgently, a report by NHS England says.
The hospital and clinical commissioning group must also review staffing at maternity units at Harwich and Clacton.
There are insufficient births at these units to warrant a 24-hour, seven-day service, the report's authors found.
The hospital said it was recruiting the senior midwife, but wanted to keep the two extra units to give mothers choice.
The appointment of an extra senior midwife on duty had previously been recommended in a review by the Royal College of Obstetricians and Gynaecologists (RCOG).
The NHS England report said that staffing requirements at the midwife-led units at Clacton and Harwich put a strain on maternity services across north-east Essex.
Lisa Llewelyn, director of nursing and quality at the North east Essex Clinical Commissioning Group, said the comments and recommendations in the report would be implemented.
The units at Clacton and Harwich were needed to offer mothers a "choice of birth location", but staffing would be reviewed.