Clacton woman considered 'stateless' refuses citizenship test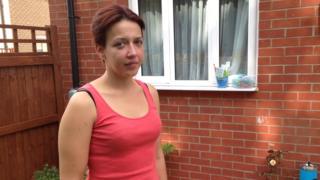 A woman left "stateless" because her father failed to sign her birth certificate is unable to visit a dying relative as she cannot get a passport.
Christine North, 32, moved to England with her German mother in 1989 and now lives in Clacton, Essex.
But although her father - a former soldier based in Germany - is British, he did not sign her birth documents.
As a result, the Home Office says Mrs North "does not have an automatic right to British citizenship".
The mother of two wants to visit her dying grandmother in Germany but she has so far been refused a passport.
After she was born, Mrs North's mother met a second British solider and married him. The family lived on a German military base before moving to the UK.
But Mrs North has never owned as passport as she entered the UK under her mother's document.
'No question'
She has been advised to apply for British citizenship but said she could not afford the £906 naturalisation fee.
"Had my dad's name been on that certificate, there'd be no question about my nationality," said Mrs North.
"I can get other documentation as a British citizen, but not a passport," said Mrs North.
Mrs North's father made maintenance payments until she was 16 after a DNA test proved he was her father. He and Mrs North have never been in contact.
Mrs North said she had also approached the German embassy in London about the possibility of a German passport, but was advised to pursue the British passport as she had never lived or worked in Germany as an adult.
The Home Office said: "Mrs North was born in Germany to a German mother and no named father.
"As such, she does not have an automatic right to British citizenship.
"She was advised in writing in January that she could apply for citizenship by naturalisation, but to date has not submitted a new application."