Met sergeant used police computers to check on partners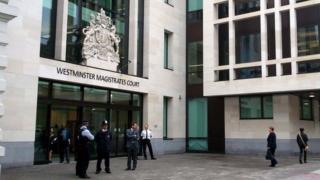 A police sergeant who used work databases to find information about two of his partners allowed "curiosity to get the better of him", a court heard.
Christopher Scott, 44, admitted using computers to check on two women while employed in Camden, north London.
He also found out details about two men he believed could have been supplying drugs to his partner's son.
Scott, of Billericay, Essex avoided a custodial sentence but was given a 12 month community order.
He is currently suspended from the Metropolitan Police and a spokesman for the force said Scott would face a misconduct board now that the hearing at Westminster Magistrates' Court had finished.
'No right'
Defence lawyer Robert Morris told the court Scott had used the database after his girlfriend of 11 years broke up with him, in 2012.
He started checking up on a subsequent partner the day after they met, in April 2013.
Mr Morris said: "He was concerned by a number of things he saw and unfortunately curiosity got the better of him."
The court heard how Scott then used police databases in June 2013 to find out information on two men over concerns they were supplying his new partner's son with drugs.
He later spied on her former partner over an issue of domestic abuse.
Sentencing Scott, of Kennel Lane, Senior District Judge Howard Riddle acknowledged he had not carried out the acts for criminal or financial gain.
But he said: "As a police officer there is a particular onus on you to respect the law and people will be alarmed that privacy is being invaded in this way by access to a computer system when you have no right to do so."
Scott was also ordered to carry out 100 hours of unpaid work.