Elderly domestic abuse cases on the rise, say Essex Police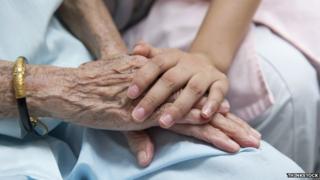 The number of domestic abuse cases involving older people has increased, according to figures released by a police force.
Essex Police said the number of such offences detected in over-65s had doubled since 2010.
Authorities in the county were criticised for their handling of a case, in which an 81-year-old died in a "domestic incident".
A conference about domestic abuse in old age is taking place later.
Essex Police's figures show the number of cases of domestic abuse it handles where the victim is over 65 went up from 85 in 2009/10, to 177 in the 12 months to April.
But experts believe the prevalence of domestic violence among the elderly is higher than reported.
Janet Dalrymple, the chief executive officer of domestic abuse charity Safer Places, based in Essex and Hertfordshire, said older victims tend to come forward less often.
"I think it's because of social conditioning, or when they were younger and they got married, it was accepted that you made your bed and had to lie in it," she said.
"Statistics show only about 4% of older women report what's happened to them to police."
'Gaps in understanding'
The issue was brought into the spotlight following the death of 81-year-old Mary Russell, from Leigh-on-Sea, Essex.
She reported being abused by her husband and died following a "domestic-related" incident in 2010, suffering a bleed to the brain.
An investigation into her death revealed gaps in the understanding of domestic abuse in old age, experts said.
New guidelines were recently introduced for prosecutors handling cases of domestic abuse involving older people.
A conference in Chelmsford, organised by Safer Places, will discuss the issue, and will try to agree a summary of advice about how the needs of older victims of domestic abuse can be met.
Charities involved in preventing domestic violence, providing help to the elderly, social services and the police will all be involved.