Tilbury Docks inquiry: Suspected illegal fuel plant link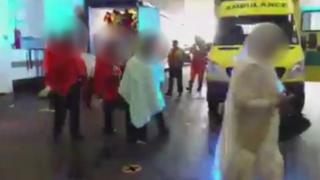 Police have raided a suspected fuel laundering plant in County Tyrone, in an operation linked to the investigation into the death of a man in a container in Essex.
The dead man was one of 35 people from Afghanistan, including 15 children, found at Tilbury Docks on 16 August.
Three people have now been arrested in connection with the investigation.
In follow-up searches, police have found a suspected fuel laundering plant and 1350 litres of fuel in Coalisland.
The facility, which was said to have been capable of producing 1000 of illicit fuel per day, has been dismantled.
Police said a 47-year-old man from Coalisland, County Tyrone, was arrested earlier at Liverpool Ferry Port by port police.
The man has been transferred into the custody of Essex Police. He has been charged and is due to appear at Basildon Magistrates Court on Monday.
Two other men also charged in connection with the death remain in custody to appear at Basildon Crown Court in November.
A 34-year-old from Rose Park, Limavady, Londonderry and another aged 33, of, Elmgrove, Londonderry are both charged with conspiring to facilitate illegal entry into the UK.
The migrants arrived in the UK on a ship from Belgium and were said by police to be victims of people trafficking.
They were discovered after dock workers heard banging and screaming coming from one of the containers.
Those found inside were taken to hospital, with many suffering from the effects of severe dehydration and hypothermia.
The dead man has been named as Meet Singh Kapoor. He was 40 years old.
The 34 survivors include 10 men, nine women and 15 children, with their ages ranging from one to 72.
They are all in the care of the Home Office after being discharged from hospital and questioned by police. They are seeking asylum in the UK.