Braintree blaze destroys outbuildings and vehicles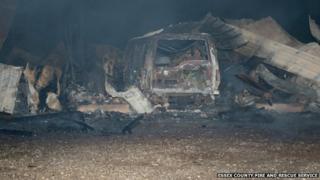 More than 40 firefighters tackled a blaze which destroyed two outbuildings and several vehicles in Essex.
Fire broke out at the site in Bridge Hall Road in Bradwell, near Braintree, at about 01:15 BST.
It took crews almost five hours to bring the blaze under control. No one was injured.
The operation was hindered by the presence of acetylene cylinders in the buildings, Essex Fire Service said.
A forklift truck was also destroyed in the fire.
A joint police and fire service investigation will be carried out to establish the cause.