Chelmsford Prison inspectors warn of self-harm and suicide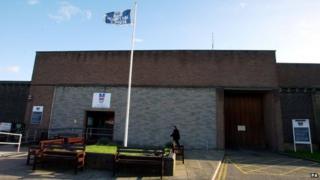 Concerns have been raised about "high" levels of self-harm and seven suicides at Chelmsford Prison since 2011.
An unannounced inspection earlier this year found although levels of self-harm had reduced since a previous assessment, they remained high.
The Howard League for Penal Reform said in 2013, the number of prison suicides was at its highest for six years.
But the chief inspector of prisons said overall, the Category B institution was a "decent prison doing a good job".
"The prison had a clear role and many of the fundamentals were right," wrote Nick Hardwick in the inspection report.
The report also said "significant work had been undertaken to improve self-harm and suicide processes" since the previous inspection.
In 2011, the prison - which was built in the 1830s as a county gaol - had started to modernise its culture.
"At this inspection we found a prison that was continuing to provide mostly reasonable outcomes despite the challenges it faced," the report said.