Southend builders brick up honeymoon brother's house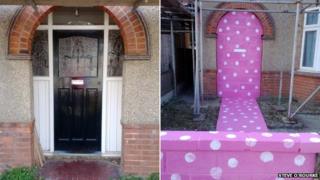 Practical joker builders have made some "interesting" changes to another brother's house while he has been away on his honeymoon.
Steve and Russell O'Rourke have bricked up brother David's front door and driveway in Southend, Essex, and painted them pink with white spots.
Past "wedding" pranks include Steve's entire house being painted in spots and Russell's drive bricked up.
"We chose a combination of both this time for David's return," Steve said.
He said the work had not taken them long as they were both in the building trade, but admitted it might be "a bit of an inconvenience" for David and his new wife Laura when they return home later.
In May last year Steve returned home to find his own home had been painted in pink and white spots.
It was dubbed the "Mr Blobby house" after the character on the Saturday evening TV programme Noel's House Party, starring Noel Edmonds, which ran on BBC One throughout the 1990s.
'Little awkward'
That stunt was carried out by Russell, in revenge for his drive being bricked up by Steve.
"David knows we've been planning something, but has no idea what will greet him. He's getting back late tonight so it might be a little awkward," Steve said.
The groom is unlikely to be able to carry his new bride across the threshold of their North Avenue home as they will first have to climb over the pink and white brick wall.
With no front door, they will have to use the side gate.
"David hasn't got a back door key with him either," Steve said.
"I've got it."
"It's a bit unfortunate for David because he's not a builder himself, wasn't involved in the other pranks, and his sense of humour is not quite the same as ours, but I'm sure everything will be fine," he added.