Clacton Tory councillors defect to UKIP ahead of by-election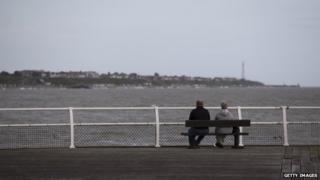 A pair of Conservative councillors in Clacton have switched to UKIP ahead of a by-election for the area's parliamentary seat.
Dawn and Michael Skeels, who represent different wards on Tendring District Council, made the decision in the wake of Douglas Carswell's defection.
"We feel strongly that this is the right thing to do," said Mr Skeels.
A by-election will be held in Clacton on 9 October, triggered by Mr Carswell's resignation.
"We both feel like the Conservative Party is increasingly the private property of people like [The Times columnist] Matthew Parris, rather than local people," said Mrs Skeels.
Mr Parris wrote an article saying "the Tories should turn their backs on Clacton".
Mr Carswell said it was "wonderful" to have Mr and Mrs Skeels' support.
Meanwhile, the Conservatives have named two candidates on a shortlist to be their candidates in the by-election.
Giles Watling and Sue Lissimore have been selected for an "open primary" to become the party's candidate.