Williams and Griffin gives Roman treasures to Colchester museum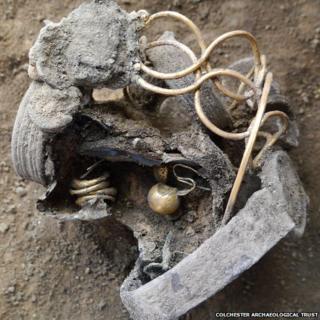 Roman jewellery "of national importance" discovered beneath a department store has been donated to a museum.
Gold and silver armlets, bracelets, rings and coins were found during excavations at Williams and Griffin in Colchester.
Colchester Archaeological Trust said it was a "remarkable Roman collection"
The items have been given to Colchester and Ipswich Museums, and are likely to be exhibited at the town's castle.
"We are currently confirming details on how to best restore and conserve the pieces for the public to enjoy," said Williams and Griffin's managing director, Carl Milton.
Archaeological digs have been taking place as part of a £30m redevelopment of the store, which is part of the Fenwick group.
The jewellery, found buried in the remains of a house, was thought to have been hidden there by its wealthy owner in AD61, when Boudicca's British tribes burnt down the town.
Colchester Archaeological Trust's director, Philip Crummy, said the "quality" of the jewellery suggested its owner was a wealthy woman and had hidden the jewels to keep them safe from the enemy.
A date for the jewellery to go on display has not yet been set, a Colchester and Ipswich museum spokeswoman said.