Laughlin Whiteley, cancer blog boy, suffers relapse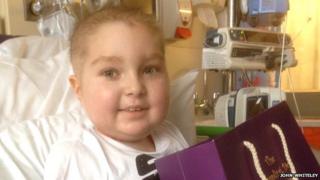 A seven-year-old boy, who will receive an award from Prince Harry next week, is battling cancer for a third time.
Laughlin Whiteley, of Burnham-on-Crouch, Essex, had his illness charted in his father's blog after he was found to have a brain tumour, aged four.
In February he had a stem cell transplant for a rare leukaemia and was given the all-clear but has suffered a relapse of the blood cancer.
His father John said the award was a "fantastic recognition of his courage".
National charity for sick children WellChild has named Laughlin as its Most Inspirational Child of the Year after receiving hundreds of nominations for the title.
Its patron Prince Harry is due to give Laughlin, who is also known as Lockey, his award at a London hotel on Monday.
"We're absolutely thrilled," said Mr Whiteley.
"He was nominated by about a dozen different people - those who work with him.
"It was very clear from the range of people and the things they said that it was about his ability to battle illness over a long period of time and his interest in sharing what he has found to be good.
"It is a fantastic recognition of his courage."
Laughlin, together with his father and mother Andrea, set up a charity earlier this year to distribute craft boxes to children at Great Ormond Street Hospital, where he is being treated.
Unlock a Life for Lockey also provides a beach hut for young cancer sufferers at Walton-on-the-Naze and the organisation would like to buy a chalet on the Norfolk or Suffolk coast.
Doctors now hope to give Laughlin another stem cell transplant using an umbilical cord from Holland.
He has started a course of mild chemotherapy and doctors want to do the transplant once he is fit enough.
"We've been lucky to have been offered a second transplant," said Mr Whiteley.
"The type of leukaemia Laughlin has is susceptible to cord transplants.
"It is slow-burning at the moment so we do have time."