Clacton by-election: How important is housing?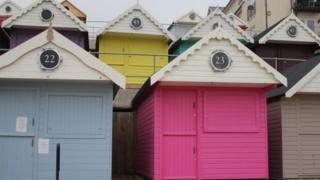 Housing has become a major issue in the Clacton by-election, prompted by Douglas Carswell's defection from the Conservatives to the UK Independence Party. What do the candidates have to say about it?
Striking a balance between providing enough homes for the local population to grow and prosper, while maintaining green, open spaces can be a challenge for local authorities.
In the Tendring district, which encompasses the Clacton constituency, there is room for 12,000 new homes - according to the government's planning inspectorate.
But the council originally put plans forward for just 4,000 homes, saying residents and councillors were against building a higher number.
The local development plan for the area is being revised and may be formerly adopted in 2016.
Conservative candidate Giles Watling said, if elected, he would work with the council to ensure any plan meant new homes would be built in the "right places, in keeping with existing communities".
"Of course, alongside any new homes, we need the first-class local infrastructure to support them," he said.
"That's why I am campaigning on issues such as better NHS provision, extra train services and more good local jobs."
Andy Graham, the Liberal Democrat candidate, said there was not enough local affordable housing in the constituency.
"The Conservative-run Tendring District Council have failed to tackle the problem," he said.
"There is no detail as to the infrastructure, local jobs or regeneration, health or schools, which has to be identified in order for the plan to work."
---
Clacton's housing market
Independent candidate Charlotte Rose agreed housing was "a major issue".
"Clacton Council should ask for grants to convert private rented properties back to council-funded to help families," she said.
Labour candidate Tim Young said he thought the proposed local development plan was "essential".
"Under the Tories, house building has fallen to the lowest level since the 1920s. Labour has pledged to build 200,000 homes a year - this is the only solution to the housing crisis," he said.
"Labour would also introduce a use-it-or-lose-it rule whereby developers sitting on land would be forced to develop it."
Douglas Carswell, who is hoping to be elected for UKIP, said Tendring District Council's original plan for 4,000 homes was "sensible," but no longer looked likely.
He believed the plans had been dashed by central government, which "needs us to accept new homes, but is not making any provisions for more GPs, railway lines, or an increase in primary school places".
"It hasn't been thought through," he said.
Monster Raving Loony Party candidate Howling Laud Hope said if he won the seat, "new houses would be built, with realistic rents, for all people who need housing and are working".
The Greens' Chris Southall has been calling for "proper localism" and "decision-making in the local area".
"It costs the district council a lot of money every time they have to throw plans out, when central government imposes different demands on the area.
"We're very keen on brownfield sites being used," he added.
Dr Bruce Sizer, another independent candidate, believed access to good quality housing would help to improve the health of the local population.
"The increasing population of elderly people will put a strain on health and housing locally," he said
"If their homes aren't fit for purpose in first place, that's an issue we need to tackle."
The Battle For Clacton: A BBC Look East Special, Monday 6 October at 22:35 BST on BBC One (East)