Essex cyclist with helmet camera 'reported 60 motorist offenders'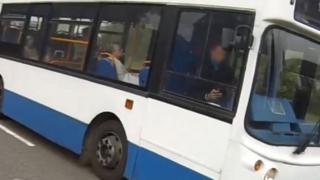 A cyclist claims to have reported about 60 motorists after filming them breaking the law in Essex.
Dave Sherry, from Harlow, began wearing a camera on his helmet two years ago.
If he spots motorists using phones or jumping red lights on his 20-mile commute to London, he captures footage which is often passed to police.
Mr Sherry said he has been verbally and physically abused by drivers but vowed to continue filming them "until the roads are safe".
"Too many cyclists are being killed by motorists not obeying the rules of the road, texting and talking on mobile phones, and running red lights," he said.
'Shoved hard'
When he spots an offender, Mr Sherry, a bus driver, cycles up to vehicles to get a closer shot.
Not all motorists welcome his filming.
"I was shoved so hard once I was off work for a couple of weeks," Mr Sherry, 37, said.
He posts his films on You Tube.
They are also sent to PoliceWitness.com, a website which encourages the public to film law breakers, and passes some on to police forces around the UK.
Last year Mr Sherry's film of a bus driver using a mobile phone resulted in the driver being fired.
He said his films had played a role "in about 60 convictions and police warnings", and a number of motorists had been referred to driver awareness courses.