Colchester Hospital: Cancer patients phoned for help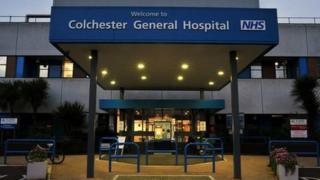 Cancer patients desperate for painkillers were reduced to phoning relatives from their hospital beds to get help, a report has claimed.
Healthwatch Essex surveyed more than 200 cancer patients and carers treated in the last three years at Colchester General or Essex County hospitals.
It found patients were denied pain relief due to staff shortages, while others were "frightened" by nurses.
The study was commissioned after it emerged cancer records were falsified.
Health sector regulator Monitor placed the Colchester Hospital University Foundation Trust in special measures last year after its cancer services were criticised.
Acting chief executive Dr Lucy Moore said the survey was "extremely helpful" and was concerned some patients felt they had not been heard.
"It finds most patients and carers said they were satisfied with the treatments and care we provided and acknowledges that we have made improvements in 2014," she said.
'Mumbling' doctors
Healthwatch Essex, which is an independent organisation, found a third of cancer patients were not satisfied with their treatment and many suffered poor care.
Referring to individual cases at the two hospitals, both run by the trust, the report said: "Patients were in such considerable pain, which was not being managed by the hospital, that they had resorted to phoning relatives in search of help."
There was also criticism about the way diagnoses were revealed, with one case of a doctor "mumbling" so much that a patient did not immediately know they had cancer.
However, many patients also praised the specialist cancer nurses, Essex County Hospital and a specialist suite where patients are treated.
Dr Tom Nutt, chief executive of Healthwatch Essex, said the report showed "the importance of listening to patients and their carers".
He called for better training for staff in ethics, more cancer support groups and better communication.
An incident management team is carrying out an official review of the trust's cancer services and will consider the report's findings.
Essex Police are still investigating allegations that staff were bullied into tampering with cancer data.