'Desperate' appeal plea for River Stort water voles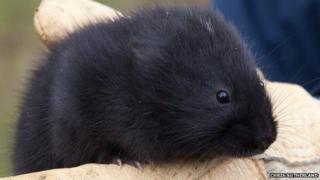 Dwindling numbers of an animal at risk of extinction could be boosted by a scheme to build a new area of habitat.
The water vole is Britain's fastest declining mammal and the Canal & River Trust has launched a £5,000 appeal to fund its work along the River Stort.
The charity plans to create vole-friendly soft banking and a reed bed on the Essex and Hertfordshire border.
Trust environmental scientist Chantal Dave said voles "desperately" needed help or would vanish from the area.
It is hoped work on the new habitat, which would provide places for the animal to burrow and hide from predators, could start in February when it comes out of hibernation.
'Small, fluffy, cute'
The work should take about a month at Lower Lock, near where the River Stort and River Lee meet, close to Harlow.
It is estimated Britain's water vole population has declined by more than 90% since the 1960s, with numbers falling to around 220,000 when it was surveyed in 2004.
Water voles have been preyed upon by mink and affected by flooding.
Ms Dave said: "Water voles are among the real characters of the waterways. They are small, fluffy and pretty cute, but they are desperately in need of our support if they are to continue to live in this area.
"We plan to make upgrades to the towpath on this section of the Stort and this is the ideal opportunity to improve the river bank to support water voles.
"We hope to get started this winter to give the water vole population the chance to thrive after their breeding season."