Harlow Council says 'pressure' needed for travellers' camps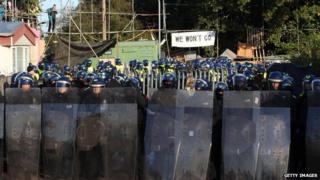 A council that spent more than £20,000 clearing 68 unlawful traveller camps in the last year said other areas must be "pressured" to offer more legal sites.
Labour-run Harlow Council, which already oversees 44 authorised plots, wants a government review of powers of authorities to tackle the issue.
It said it was regularly being targeted as a third of land in the Essex town was "green space".
The government said a "range of powers" were already available.
In 2011, Basildon Council spent £7m evicting travellers from an illegal site at Dale Farm, Essex.
Currently, councils can issue temporary notices to remove unauthorised caravans or issue possession orders to remove trespassers from land.
The number of legal plots for Gypsies and travellers in Harlow is greater than anywhere else in Essex, according to figures from the Conservative-run county council.
Jon Clempner, leader of Harlow Council, said people in Harlow were "very angry" about the illegal encampments.
"We share their frustrations," he said.
"The council is calling on the government to review the powers available to councils to deal with unlawful/unauthorised encampments and that pressure is put on other areas to provide authorised traveller sites."
'Perverse incentive'
Brian Foster, chair of the Advisory Council for the Education of Romany and other travellers, said he was not surprised about the number of illegal encampments.
"We've been saying for years that not making appropriate provisions for sites will create situations which are unsustainable, and will set travellers against local people," he said.
"Travellers can never win. They won't get planning permission for new sites, but they can't stay in places illegally."
He believes the government should take a "positive leadership role" in working with councils to meet local need for new traveller sites.
A spokesman for the Department for Communities and Local Government (DCLG) said: "In August last year, we provided updated guidance, reminding councils to act swiftly and to work with other organisations including the police to stop encampments happening in the first place."
The DCLG told the BBC it was also considering measures "that would go even further", ending the "perverse incentive for councils not to act when travellers set up unauthorised sites".