Mountnessing smouldering woodpile gets fire break trench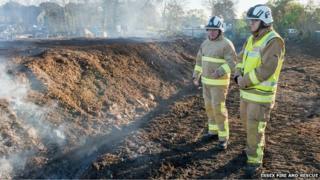 Fire crews who have been tackling a blaze in a 50ft (15m) high woodpile in Essex for nine weeks are preparing to leave the scene.
A fire break trench has been dug around the smouldering pile at Thoby Lane in Mountnessing near Brentwood.
Unburnt wood in the 5,000 tonne pile has been isolated away from the fire.
Acting Chief Fire Officer Adam Eckley said when the last crews leave at 19:00 BST Essex Fire and Rescue will have spent 1,514 hours on site.
"There is hardly a firefighter or officer in Essex who hasn't had some involvement in this incident but crews have received a lot of support to enable them to carry out their work at the scene," he said.
Protecting environment
"Throughout the incident we have worked closely with our partners at Brentwood Borough Council and the Environment Agency to make sure that the fire had the minimum impact on the local area, those living nearby and the environment.
"The decision taken early on not to use large amounts of water has drastically reduced the environmental impact it has had.
"With the progress over the weekend, the community can be reassured that we are no longer required to maintain a constant presence here."