Easyjet passengers taken off 'too heavy' plane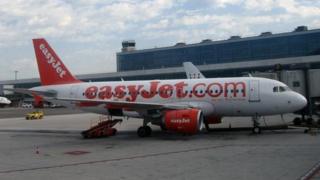 A number of passengers on an Easyjet flight to Spain were asked to get off before take-off as the aircraft was "too heavy", the airline has said.
The decision was put down to weather conditions before the flight from London Southend to Malaga.
Those who did not travel were offered £250 compensation. It is believed 10 people got off the plane.
A similar situation was reported in June, when an Easyjet flight was found to be 200kg (441lb) overweight.
On that occasion, several cast members of the television programme "The Only Way is Essex" were on board.
An Easyjet spokesman said: "Like all airlines, we calculate weight using high average estimates for males and females, along with 20kg baggage.
"On the rare occasions where we cannot accommodate all passengers on a flight due to unexpected circumstances, we will ask for volunteers to travel on later flights and offer appropriate payment for this."
Lynda Woodcock, 66, was one of the passengers on board. She was travelling to Malaga to visit her daughter.
She told BBC Essex when the request for passengers willing to take a later flight was put out, there were more volunteers than the crew could handle.
"But I couldn't understand how they decided who would leave," she said.
"They didn't ask about who had hold luggage. It was scary to think that 10 people leaving would mean we would take off."