Man dies in Essex after car crashes into house and hits tree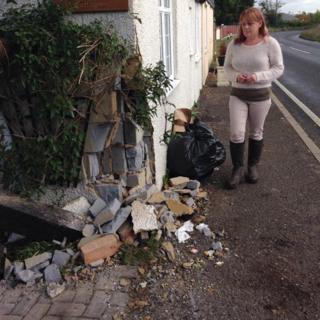 A man died after his car crashed into a house and hit a tree in Essex.
The accident happened at about 02:30 BST in Steeple Road, St Lawrence.
The driver's blue Peugeot 206 clipped the front of a house before hitting the tree. He was declared dead at the scene. No-one else was in the vehicle, Essex Police said.
Tenant Debbie Yates said she heard a "bang and a whizz" and went downstairs to find the car embedded in the tree in her garden.
She said she could not see anyone in the car and did not realise someone was still inside the vehicle when she called the police.
Two crews from Essex Country Fire Service also attended and the road was closed while accident investigators examined the scene.
A structural engineer had visited and declared the house safe, Ms Yates said.