Egyptian sarcophagus found in Essex house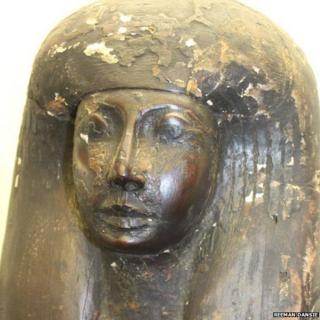 An ancient Egyptian sarcophagus worth at least £6,000 has been discovered - propped up in an Essex house.
The 3,000-year-old coffin was found by auctioneer Mark Stacey as he inspected the Colchester property as part of a house clearance.
It is thought the 6ft wooden casket once housed the body of a noblewoman and will be auctioned on 26 November.
Mr Stacey said: "It was a like something from the Addams Family standing there in the drawing room,"
It is thought to have been in the owner's family for about 60 years and may have been acquired after a museum closed down.
Mr Stacey added: "It is certainly the oldest item I have been asked to look at in my 30-year career and probably one of the most exciting.
"I was quite taken aback by its beauty. It's almost like someone might walk out and join the family for dinner."
This is the second such item to be found in Essex recently.
Last month, a 3,000-year-old sarcophagus lid found in a house in Bradwell-on-Sea sold at auction in Cambridgeshire for £12,000, significantly more than its guide price of £3,000.
"It's a bit bizarre to find two similar items almost at the same time," Mr Stacey said.
"It's a bit like buses. They all come along at the same time."
The coffin has a carved wooden face and hieroglyphics on the back.