Couple's fraud using brother's name 'ripped family apart'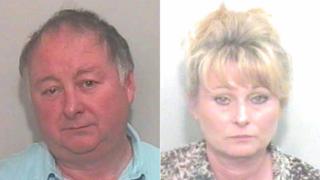 The brother of a woman who was jailed after running up huge debts in his name said she "ripped the family apart".
Dawn Palmer, 50, of Brentwood Road, Dunton, Essex, was given a 30-month sentence for theft and fraud offences.
Her husband, Jeremy Palmer, 53, was jailed for six years following a trial at Blackfriars Crown Court.
The court heard the pair accrued more than £1m of debts using the name of Mrs Palmer's brother, Mark Waterhouse, who said he was "devastated".
"It's broken our family apart," he told BBC Essex.
"They say blood's thicker than water, but I don't think I can ever forgive them. I don't really ever want to talk to them again."
'Above the law'
Essex Police said the pair had used credit in Mr Waterhouse's name between 2002 and 2008 to buy three Range Rover Sports and two Bentleys.
Mrs Palmer used her maiden name to get advances against their home address, by claiming to earn over £200,000, police said.
She was convicted of five offences, acting together with her husband, who was found guilty of 16 counts.
The couple were jailed on Wednesday.
Mr Waterhouse, 51, from Great Baddow, only found out about the fraud after the pair were arrested in 2011.
"I think they thought they were some sort of Bonnie and Clyde, that they were above the law," he said. "But nobody is."