Laughlin Whiteley: Funeral parade for cancer blog boy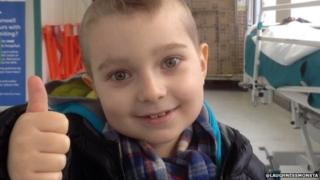 An "inspirational" seven-year-old boy from Essex who died from cancer has been given a last farewell by the people in his home town.
Laughlin Whiteley, of Burnham-on-Crouch, who recently received an award from Prince Harry, died two weeks ago.
Friends and family lined the town's High Street as a horse-drawn cortege carried Laughlin's body to a private funeral service.
His three-year illness was charted in an online blog by his father.
Lockey, as he was known, was found to have a brain tumour aged four.
In February, he had a stem cell transplant for a rare leukaemia and was given the all-clear, but suffered a relapse of the blood cancer.
Michelle Richardson, from the Unlock a Life for Lockey campaign, said: "Today is about celebrating Laughlin's life and bringing happiness not only to the family, but to the whole community who are here... to just smile and get his family through today.
"He was a very special boy, he always managed to smile, he was very courageous and inspirational to everybody he knew.
"It's a day to remember him, remember what he went through and to bring strength to everybody."
Last month, national charity for sick children WellChild named Laughlin as its Most Inspirational Child of the Year after receiving hundreds of nominations for the title.
Its patron, Prince Harry, gave Lockey his award at a London hotel.
Laughlin's parents set up a charity earlier this year to distribute craft boxes to children at Great Ormond Street Hospital, where he was being treated.
The charity also plans to hold a ball in 2015 to help raise funds to support other children with cancer.
"The ambition is to create a holiday home on the Norfolk/Suffolk border to give give families of children going through treatment a bit of respite and to have some quality time with the family," said Ms Richardson.