Southend Airshow to return in 2015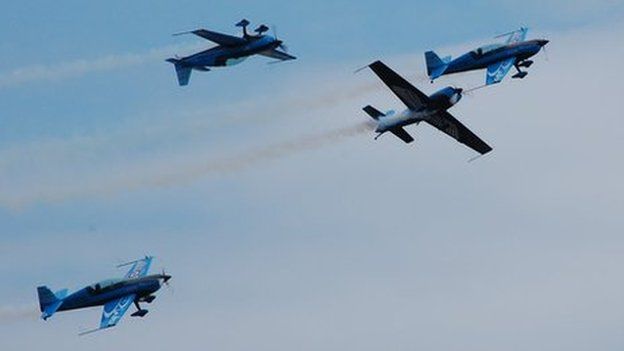 An airshow scrapped to save council cash will go ahead next year after volunteers raised £220,000 to stage the event.
Southend Airshow & Military Festival attracted crowds of up to 400,000 before being axed in 2013 by the council as part of a £10m savings plan.
Now Save Southend Airshow said it had secured the event's future and it will take place again in September 2015.
The group said it had based the bid "on a solid financial foundation".
Next year's line-up has not yet been announced, but previous attractions have included a Vulcan bomber, the Red Arrows, the Battle of Britain memorial flight and a British Airways Concorde.
Tom Curtis, from Save Southend Airshow, said: "People love airshows, and ever since the council voted to close it, there's been a massive outpouring of community support.
"The team has worked incredibly hard over the last year and a half to create a fully costed, workable and sustainable event that Southend can be proud of and put the town on the map.
"We could not be more excited about the airshow's return."
The group's bid to stage the air show this year failed due to a £35,000 shortfall in funding.
But Mr Curtis said the money had since been found, and a date for 2015 had been fixed.
He said: "Airshows are not cheap but Southend is probably one of the best places to have an airshow. You've got this fantastic three-mile strip on the seafront, you've got great access to get in, you've got an international airport."
Related Internet Links
The BBC is not responsible for the content of external sites.