Newborn kittens rescued from kitchen pipe in Braintree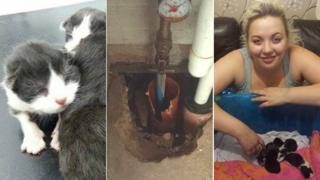 Two newborn kittens were rescued from a pipe under a kitchen floor after being born in a cupboard.
Firefighters were called to free two of the four kittens delivered by Theo, a four-year-old cat, in Braintree on Wednesday.
Three of the litter fell down a utility pipe when just an hour old.
Owner Heather Greenall, 22, said she managed to grab one before the fire service saved the others. "I feel so relieved," she added.
Ms Greenall had been woken by her partner, who told her the kittens had been born in the kitchen cupboard.
"When I got there there was only one kitten," she said. "I didn't think anything was up but when I took the kitten away I heard lots more meowing.
"I saw there was a pipe that wasn't covered and realised there were three more down there. They were making so much racket."
She said the fire service took two hours to save the remaining kittens.
"They smashed the floor apart because they'd gone in a pipe that went under the floor," she said, adding that the repairs would cost hundreds of pounds.
"I couldn't believe it. I didn't think they would survive."
Ms Greenall said she planned to rehome the kittens and donate the money to the fire service.
"It's just to say thank you for all the work they did because obviously there are more serious jobs," she said.
RSPCA inspector Caroline Richardson, who helped with the rescue, said the kittens had a lucky escape.
"We got there just in time," she said. "The little kittens were frozen sitting in cold sludge.
"Another half an hour, and I think they would have died.
"They were just too young to survive such conditions."