Colin Trotman and Reynold Dyett guilty of exploiting Southend girls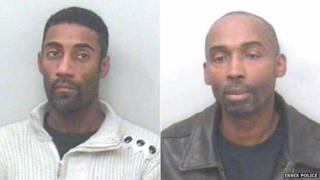 Two men have been been found guilty of sexually exploiting "vulnerable" girls in Essex, making them engage in sexual acts in return for drugs and alcohol.
Colin Trotman, 45, was convicted of five offences, including rape, and Reynold Dyett, 56, convicted of four, including sexual activity with a child.
Basildon Crown Court heard the men, both Londoners and described by police as "hideous, perverse and dangerous", groomed girls online and by text.
They will be sentenced at a later date.
The men had identified their victims during visits to Southend in 2012, the court heard.
They went on to groom their victims online before travelling from east London to meet on a number of occasions between August and November 2012.
The jury was told the men would give the girls cigarettes, cannabis and alcohol in return for sexual favours, some of which took place in Trotman's car.
After a two-week trial, the jury convicted Trotman, 45, of five charges, including one count of rape.
Dyett was found guilty of four offences, including sexual activity with a child and trying to meet a girl after sexual grooming.
Trotman, of Wetherell Road, Hackney, was found not guilty on two counts of rape involving a second complainant.
Dyett, of Elderfield Road, Clapton, was cleared of one count of sexual activity with a child, and one of sexual assault.
Det Ch Insp Simon Werrett from Essex Police said child sex exploitation was often difficult to investigate as offenders target vulnerable girls, "often knowing they are unlikely to be believed".
"These girls were vulnerable, alcohol-dependant, socially-active teenagers who were experiencing difficulties at home," he said.
"However, in this case, Trotman and Dyett failed. The girls were believed and support was provided."
Southend Council said the girls and their families were being supported as necessary.