Essex parrot picks two locks in car escape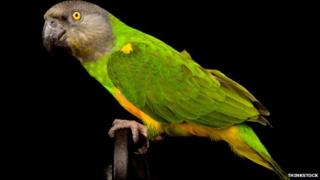 A parrot picked two locks on his cage and made his escape while being transported in a car in Essex.
Magic, a Senegal parrot, was being moved temporarily while his owners from Leigh-on-Sea were on holiday.
Their daughter Michelle Russell said Magic had been known to escape so a second lock had been put on the cage.
Magic flew away when the car door was opened and has not been seen since Thursday. She said the green bird would be hard to spot if he was in a tree.
Mrs Russell and her husband Lester were taking the bird from the home of her parents' Roy and Grace Jarvis to their own in Hadleigh Road when he made his getaway.
"Magic's escaped before, but he just flies around the room," she said.
"He's picked the ordinary lock before so my parents put an extra one on, a bit like a caribiner like climbers use for their ropes."
'We're desperate'
When the cage was lifted out of the car, the door came open and the parrot flew off.
"My father is devastated. Magic is very attached to him - in fact, he's the only person the bird likes," Mrs Russell said.
"They've had the parrot for about 20 years so we're desperate."
Magic had been seen in a tree but although the family have searched, he has still not been found.
"The camouflage means that he really just blends into trees. He's mainly green with a bit of yellow and some grey," she said.
"He's going to be getting really hungry by now so we're hoping he'll fly down and someone will see him."
Mrs Russell said they had taken advice from "experts on parrots" and have recordings of parrot calls which they plan to play out in the street.