Fake Samsung mobile phones hauls seized in Essex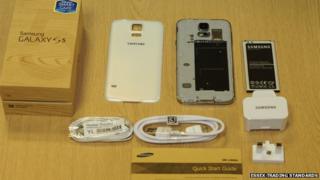 Fake Samsung mobile phones and accessories said to be worth over £100,000 have been seized by officials following a tip-off.
Sixty-eight phones were found by Essex trading standards at a parcel depot in the west of the county on Tuesday, and a further 130 were found on Wednesday.
Trading standards officers claim the hauls are worth almost £110,000.
Shoppers have been warned not to buy mobile phones or goods from pubs or market stalls.
An inquiry has been started into where the devices came from.
"Our advice is that people should never hand over cash to people selling mobile phones in the pub or on a market," said Roger Walters from Essex County Council trading standards.
"You should also be very careful when buying mobile phones from internet trading sites such as eBay.
"You never know whether the phones are the real thing or if they've been stolen," he said.