Channel cruise ship death: Marco Polo craft had 'leaky windows'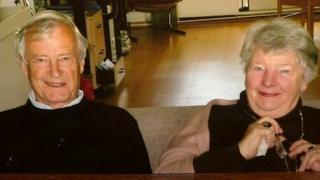 A cruise ship on which an elderly passenger died when a large wave struck had leaking and rusty windows, an investigation has found.
James Swinstead, 85, from Colchester, was killed when water crashed through windows on the Marco Polo in February.
A Bahamas Maritime Authority report said passengers noticed "a number of windows" had "leaks or rust stains".
Cruise and Maritime Voyages said the health and safety of its passengers and crew was of "paramount importance".
The Bahamas-registered passenger cruise was heading for its home port of Tilbury, Essex, at the end of a 42-night voyage when it was hit by an "extremely large" wave, at about 13:05 GMT on 14 February.
It was carrying 735 passengers and 349 crew members.
Mr Swinstead was in a restaurant with his wife when the wave hit, forcing two windows out of their fittings and shattering two others.
The report says according to the doctor's assessment, Mr Swinstead had been "struck by one of these complete panes".
The doctor said his injuries were "not compatible with life", and Mr Swinstead was declared dead at 17:50.
Sixteen passengers and crew were injured, mostly by flying glass.
'Intense storm'
The report said an inspection of the ship found cracks in window frames.
It said there had been weak risk assessment in protecting the restaurant windows with covers to prevent storm damage.
However, it acknowledged the sea state was "phenomenal", with waves higher than 14m.
It said the ship's course and speed were "actively managed" but the storm conditions were "significantly more intense and vigorous than forecast".
The Marco Polo was ruled fit to sail soon after, following inspections by police and port officials.
Operator Cruise and Maritime Voyages said the report acknowledged the "positive and proactive safety culture" on board the ship and the "professionalism and experience" of the master and crew.
"The cause of this tragic incident was the unpredicted and exceptional extremity of the weather conditions," the company said in a statement.
"These conclusions are borne out of the findings of the BMA report, and we are continuing to review this to identify, where possible, areas where we can improve our already high levels of safety as part of our on-going programme of safety improvements.
"There will be a coroner's inquest in the UK and it would therefore be inappropriate for us to make more detailed comment at this time."