Breck Bednar murder: Parents 'sue' Essex and Surrey police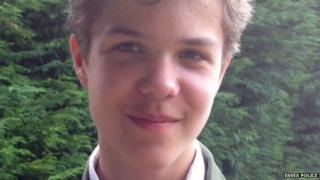 The parents of a schoolboy killed by an "internet predator" are suing two police forces over its handling of the case, the BBC understands.
Breck Bednar, 14, of Caterham, Surrey, was stabbed in the neck by Lewis Daynes in Grays, Essex, in February.
Both Essex and Surrey police forces said they had been notified of a civil claim.
The Independent Police Complaints Commission (IPCC)is also investigating the conduct of both forces.
Lewis Daynes, 19, of Rosebery Road, Grays, was due to stand trial at Chelmsford Crown Court on a charge of murder on Tuesday but admitted the offence.
An Essex Police spokesman said: "Essex Police has been notified of a civil claim against the force and it would be inappropriate to comment further on that matter at this time.
"The force voluntarily referred its contact with Lewis Daynes to the IPCC in February 2014, as it believed it was in the public interest to do so.
"The IPCC originally returned it to Essex Police for a local investigation. The force re-referred the matter on 20 November to the IPCC, who are currently considering it."
A Surrey Police spokeswoman said it had received a civil claim, but declined to comment further.
At the time of the killing, Breck's mother Lorin LaFave, said her son was "brutally murdered" by an "internet predator".
It is believed Daynes met Breck, a student at St Bede's School in Redhill, while playing video games online.
Barrister Richard Whittam QC said it was the prosecution's case the murder "involved a sexual, sadistic motivation".
Daynes is due to be sentenced on 12 January.