FBU members 'bullying' Essex Fire Service workers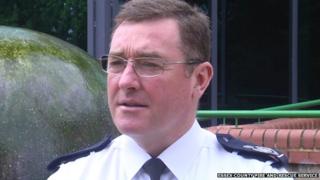 Fire service employees are being bullied for not being part of the trade union, the acting chief executive of Essex Fire and Rescue Service has said.
In a letter to the Fire Brigades Union Essex, Adam Eckley said members told colleagues their working lives would be "unbearable" if they did not join.
However, the union said the allegations were without evidence and an "attempt to slur the reputation" of the union.
It said it took all allegations of bullying "very seriously".
In the letter, seen by the BBC, Mr Eckley said allegations had been made that a "minority" of union members were refusing to talk to colleagues who were not part of the FBU.
"Derogatory comments" had been made about non-members, and threats were made while trying to coerce employees to join the union, Mr Eckley said.
He said: "Unfortunately, but perhaps not surprisingly, recipients of such alleged acts of intimidation and victimisation, are unwilling to make a formal complaint for fear of reprisals."
Earlier this month, the Essex Fire Authority announced it was launching an inquiry into claims of an "intimidatory culture" at the fire service.
Alan Chinn-Shaw, Essex FBU brigade secretary, said Mr Eckley's allegations were an attempt to "intimidate FBU members" during an ongoing dispute about pensions.
"The FBU finds it had to believe that any of the allegations you have made have any foundation," he said in a letter.
"The Essex FBU have brought to the attention of the service, on a number of occasions, numerous incidents of bullying, harassment of and provocative behaviour towards FBU members.
"This includes two incidents involving two of our of officials, all of which the service failed or refused to deal with appropriately.
"The service's inconsistent and heavy-handed approach to discipline has done little to dispel the widespread feeling amongst our members that the service continues to seek to manage through a culture of fear and intimidation."