'London Bridge' corkscrew fetches £40,000 at auction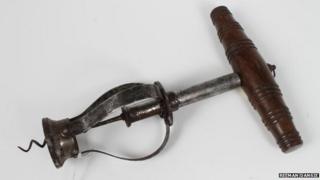 A Victorian corkscrew made with parts from Old London Bridge has sold at auction for £40,000 - about 100 times its guide price.
The corkscrew, made with components from the bridge thought to be about 800 years old, was expected to fetch between £400 and £600.
An anonymous "European collector" bought the unusual antique at the sale in Colchester, Essex.
Auctioneer Jonathan Benson said the bid "caught us all unawares".
"There was a round of applause as the gavel fell," he added.
The item, which went under the hammer at Reeman Dansie Auctioneers earlier, was described in the sales catalogue as "an unusual Victorian Old London Bridge corkscrew" with an "arched crown section".
It is engraved with the words: "Made from the Iron Shoe that was taken from a pillar. That was 656 Years in the Foundation of Old London Bridge."
The bottle opener was made by I Ovenston of 72 Great Titchfield Street in London.
The £40,000 corkscrew does not work, the catalogue pointed out.
It is in "good condition... but the ratchet doesn't engage with the spring".
Work on the Old London Bridge began in about 1176. King Henry II imposed a tax on wool to help pay for its construction and the bridge was completed in the early 13th Century.
Throughout its history the bridge was a busy thoroughfare, and was once lined with shops.
The new London bridge was officially opened in 1831 and the destruction of the old bridge began.